Retreat Restaurants - Lostock, Bolton

Jeremy Guest

Global Kitchens came highly recommended when we wanted to extend and update our kitchen. They interpreted our ideas really well and built non-standard sized units so we could incorporate special appliances into our design. The quality of workmanship was excellent and Sean took time to ensure things were exactly how we wanted. We are absolutely delighted with our kitchen.
I also own a chain of restaurants, including the Retreat bars and restaurants in Bolton and Adlington. I have regularly used Global Kitchens to build bespoke units that look fantastic and are tough enough to withstand the rigours of such a pressured and busy environment. Global Kitchens are flexible, reliable and good people to work with. I wouldn't hesitate to recommend them to other customers.
Harwood

Gladys and Pepe

I was first introduced to Sean by a local builder who was in the process of renovating my bungalow. On meeting Sean I explained what I wanted - a new fitted kitchen, sliding door wardrobes in two bedrooms, plus other free standing bedroom furniture. After several visits, many samples and much patience from Sean, I got what I asked for and workmanship were ideal and an added bonus was the affordable price for such good quality goods.

The after service was just as good. Some minor issues were soon put right without any fuss (no ongoing phone calls without response) and Sean always reacted promptly. During this period Sally joined Sean and she has definitely been an asset to the business. I have recommended Sean and Sally to family and friends and would have no hesitation in doing so again. A very satisfied customer!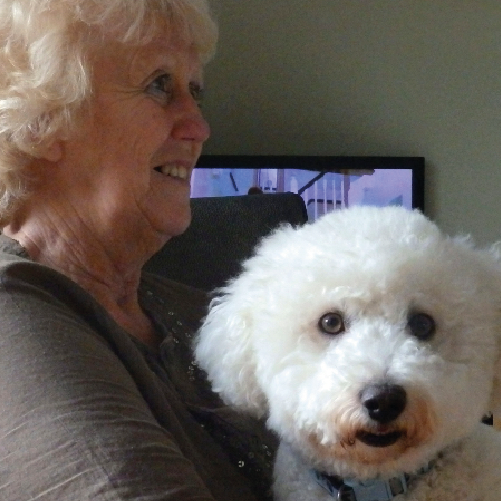 Chorley

Jenny Statham

Global Kitchens were recommended to me by a friend who'd had a walk-in wardrobe fitted by them. Form the very onset I found Sally and Sean highly professional and very friendly. Each visit they made to my home was thorough and I never felt rushed in any way. They showed fabulous attention to detail and were more than happy to run through all sorts of options with me irrespective of how long it took. Sally and Sean were a great team, each covering their own aspects and complimenting one another fantastically. The finished wardrobes, which were completed ahead of schedule, look truly beautiful and timelessly elegant. I am delighted with their work and am already planning the next job they can do for me. I would highly recommend Global Kitchens for a friendly, bespoke service which is very competitively priced. I truly couldn't be happier with them.
Bolton

Julie & Peter

Global Kitchens were recommended by our builder after we were disappointed by several kitchen designers who did not listen to what we wanted. Sean and Sally did listen and have helped us create our dream kitchen. Nothing was too much trouble, thay were always reliable and the standard of craftsmanship is excellent. Our friend recently commented that it is the nicest kitchen she has ever seen. We will definitely be recommending them to all our friends and family.
Kate, Gary and Grace Hogan
My husband and I purchased a house which needed a complete renovation. We were recommended Sean by our builder to fit our bedrooms. We were so pleased with the quality and service that we then asked Sean to do our kitchen too. What we liked about Sean compared to other companies was that nothing was too much trouble and he would give us advice from his years of experience of what would work well in the space we had. He would do as many drawings as we wanted, different ideas on each maximising the space. A few years later we contacted Sean again and he and Sally came to fit our daughters bedroom. It isn't a big room but we have do much storage for toys, clothes. Our daughter loves it. I recommended Sean to my parents who had their bedroom fitted by Sean to my parents who had their bedroom fitted by Global Kitchens. We didn't have the restriction of standard sized units, Sean would make the furniture to the space we had, which is just great. Every bit of space in out bedrooms and kitchen have been utilised.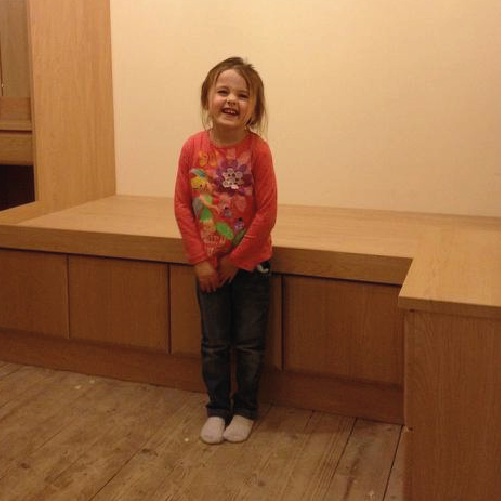 Bolton

K. Leighton

Global Kitchens came highly recommended to me and did not disappoint. Sean and Sal were excellent and really helpful in putting together ideas for my dream kitchen and also great wardrobes in two bedrooms. They always arrived when planned, were tidy and nothing was too much trouble. The quality of the work, value for money for bespoke work and service has been second to none. I am delighted with the results and would recommend them to anyone. Thank you Sean and Sal!
Bromley Cross

Rachel and Tony Hamar

Sean and Sally were recommended by a friend who had their bedrooms done by them. We wanted all our bedrooms redone and one of them converting into a home office. We also wanted other work doing in the house and the rooms to be completed one after the other to minimise the upheaval.

The first time they came round to see us we knew straight away that we wanted them to do the work. Sean was very knowledgable about all the technical aspects of the work and Sally spent a lot of time helping us to decide on designs, colour-schemes and styles.

We were really impressed with Global Kitchens approach. Everything was finished when they said it would be and all work was of a really high standard. When there was a problem with a sliding wardrobe a couple of months later they sorted it out straight away even though it wasn't their fault, we are thoroughly delighted with all our rooms and would highly recommend Global Kitchens.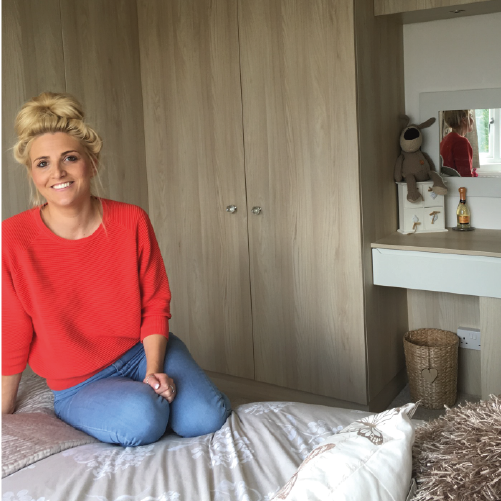 Smithills-Bolton

John & Kath Kemp

Following a recommendation from a friend, Global Kitchens fitted wardrobes and bedside tables in our son's new house. As the house changed from a bachelor pad to a family home, Sean and Sally designed and fitted a dressing table to co-ordinate with the wardrobes and have recently fitted wardrobes in the nursery. They have fitted two bedrooms in our house, a beautiful bedroom for our daughter and much needed storage in our spare bedroom. From start to finish, Sean and Sally provide a fantastic service and nothing is too much trouble for them. Their attention to detail and standard of workmanship is outstanding. they have innovative ideas to maximise space and gave us good advice on colour schemes and styles. we have recommended Global Kitchens to friends, who have been as delighted with the end results as we have.
Westhoughton

Kerry & Justin Harper

We can honestly say that we entered in to kitchen extension and renovation with out eyes wide shut!!!
We had absolutely no idea of what we wanted or how the process of having a new kitchen fitted worked. We were confused by the most basic things like what comes first floor tiles or cupboards? who designs it? When do we order stuff? How much is this going to cost?

Global Kitchens were recommended to us by a builder as part of a wider project, we contacted them with no real expectation of what we would receive in terms of advice, support and customer service during the process.

We made contact with Sally and Sean and instantly we began to feel at ease, their support and guidance shaped our vision and a clear process or what was going to happen.

I would never have anticipated the level of support that we received from Global Kitchens they are truly amazing and take customer service to whole new level.

We met with Sally and Sean at least 5 timers prior to the kitchen fit, during these sessions we had detailed consultations to make sure that every detail was perfect and we had the opportunity to make changes right up to the very last minute. The more they got to know us the more they understood our vision, with their expertise and advice the final product absolutely smashed our expectations.

Global Kitchens are a small team of extremely talented and passionate individuals who offer a level of customer service that is second to none, they are champions in their field and we would certainly recommend them and have done so already.

We now have a breathtaking kitchen and lucky for us two very special friends.

Thank you to both Sally and Sean x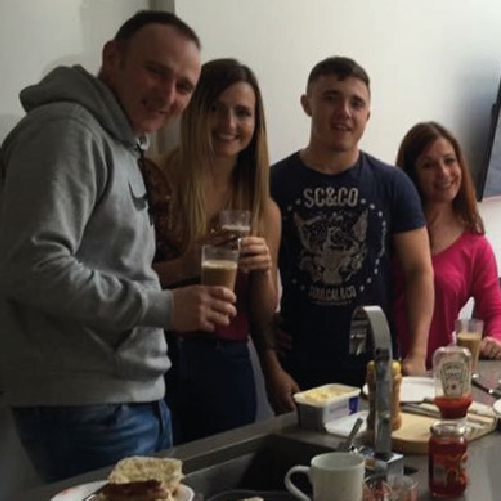 Smithills

Floss and Paul Henderson

A kitchen professional recommended Global Kitchens as the right people to help realise our dream of creating a bespoke kitchen, that would be the heart and social hub of our Edwardian home. Sally and sean spent literally hours, listening to our ideas, talking us through the options, and then producing a design that was functional and gorgeous.
They were professional throughout, reliable and so meticulous in their approach. We are simply delighted with the end result, and love spending time here - just the two of us, and with family and friends.
Worsley

Laura & Ali

Sally and Sean were recommended to us by a friend who had just had their new kitchen fitted. As we were having a large extension we wanted our kitchen to be perfect and we were not disappointed. We were so impressed by the attention to detail that went into choosing the perfect kitchen and making the most of the space we had. I had an idea that I wanted a toddler table for my two girls, which could be used to eat at as a family but also for the children to play on, with their own storage. Sally and Sean took my idea and made it a reality and the kitchen as a whole with the toddler table works so well for our family. I can not recommend Sally and Sean enough. They are two lovely people who are incredibly professional and understand what I wanted even when I did not know myself!! Great communication throughout, extremely flexible (which we needed with young children) and a passion to ensure that the job is perfect. My mum and dad are looking forward to having their kitchen fitted next week!

We can not thank you enough - here are Grace and Lucy enjoying breakfast at their toddler table while you were doing the kitchen.

Laura, Ali, Grace and Lucy